Melanie & Nathan's Wedding
Originally booked to get married in Greece, it seems COVID had other plans in store for these two! Mel & Nathan's hinterland wedding was not only a special day for us to meet folks who are just as (if not more) obsessed with alpacas as we are, but to witness their next level of love. The real deal. Read on to throw yourself into their beautiful intimate BVF wedding…
When did you two first lock eyes?
Though it is a very blurry memory, we first locked eyes on a night out with friends, we ran in the same circles, and we finally met on a busy Saturday night at our favourite bar. It would take Nathan a few months to muster up the courage to ask Melanie out for a coffee and the rest, as they say, is history!
Who popped the question? Don't skip the juicy details please!
We had just started our company and we were very time poor, with date nights taking a back seat to work, we decided that we were in need of a break. Nate organised a few nights away in the Hunter Valley and had organised a beautiful villa in the hinterlands overlooking nature. Nate had organised a beautiful picnic for us in an orchard on the property. After settling in for our champagne infused afternoon, Nate got down on one knee and popped the question.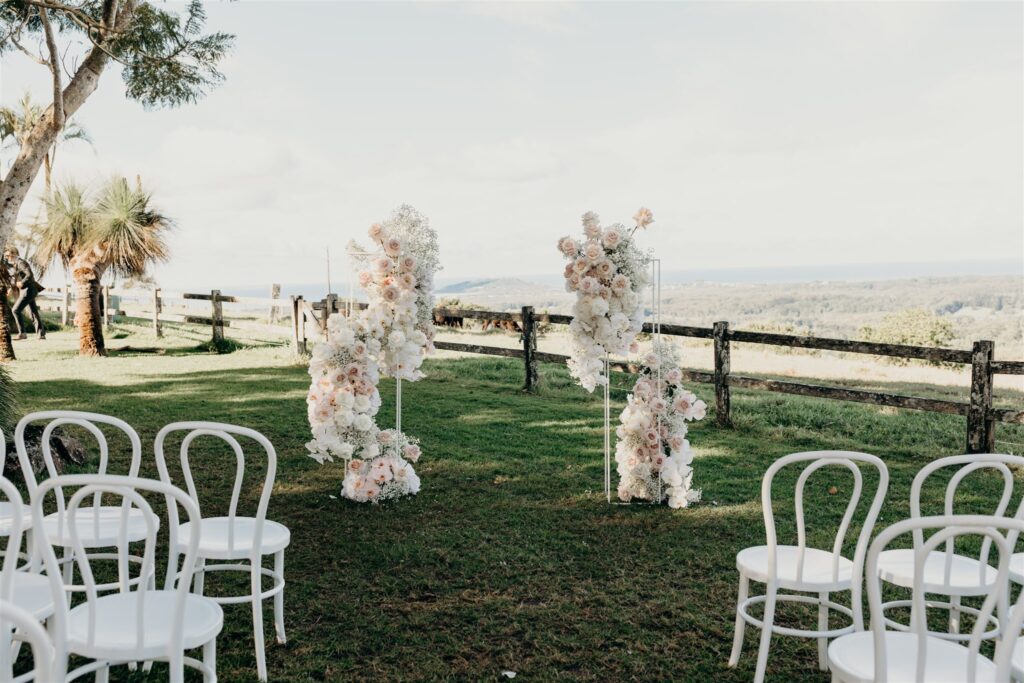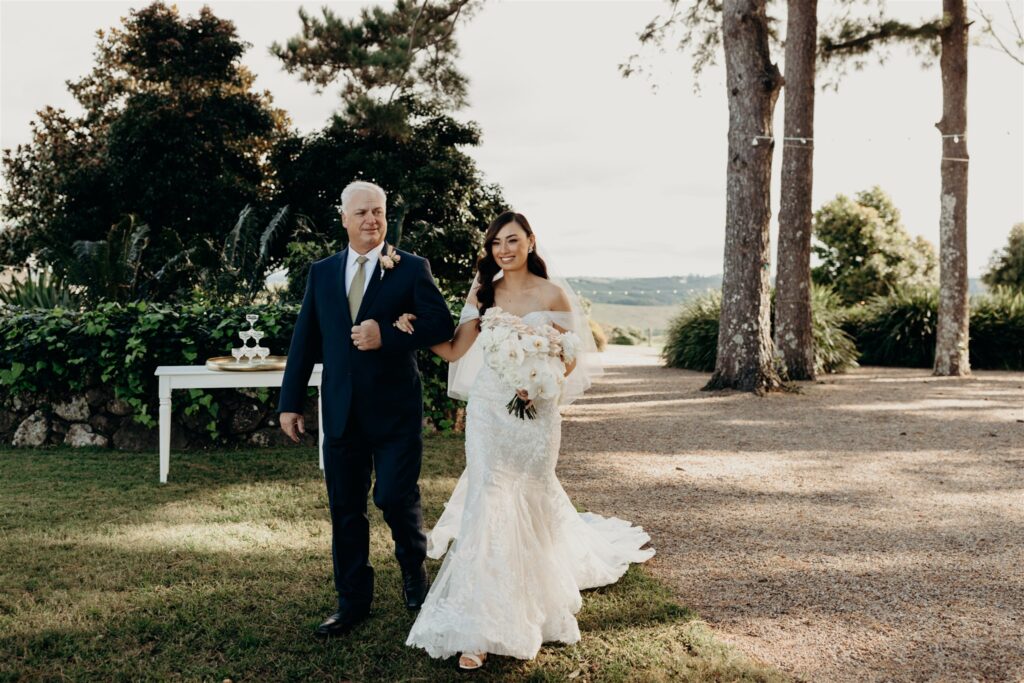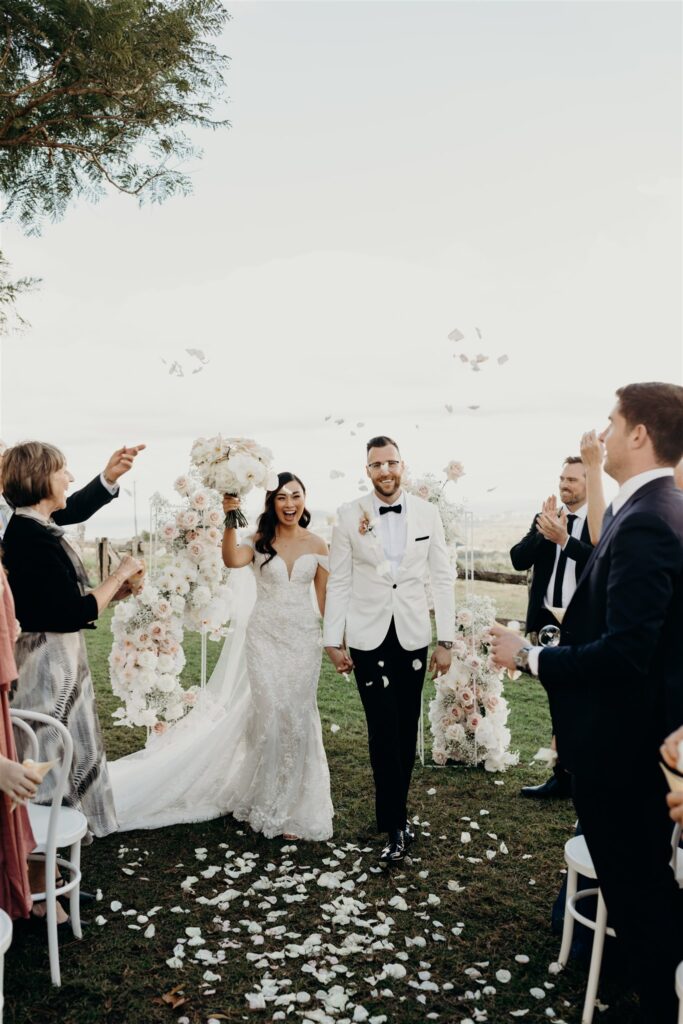 So, tell us, what made you fall in love with Byron View Farm?
We were originally booked to get married in Greece, but of course, Coronavirus had other plans for us. We had looked at getting married in Byron, and the view at BVF was too good to pass up. The setting itself was reminiscent of the place where Nathan had proposed, and we loved being able to choose a hinterland or ocean view.
We had a virtual inspection with Che (Byron Bay Weddings), and even though it was a very rainy and misty day, we were sold. We could see our vision coming to life at BVF. It is such a beautiful location that instantly felt right.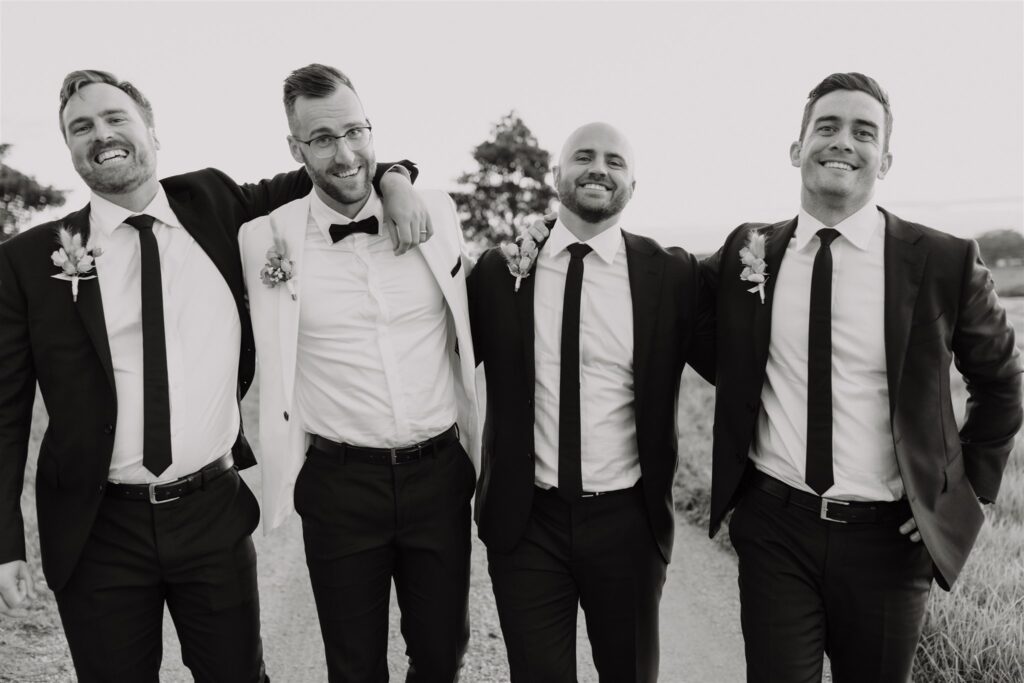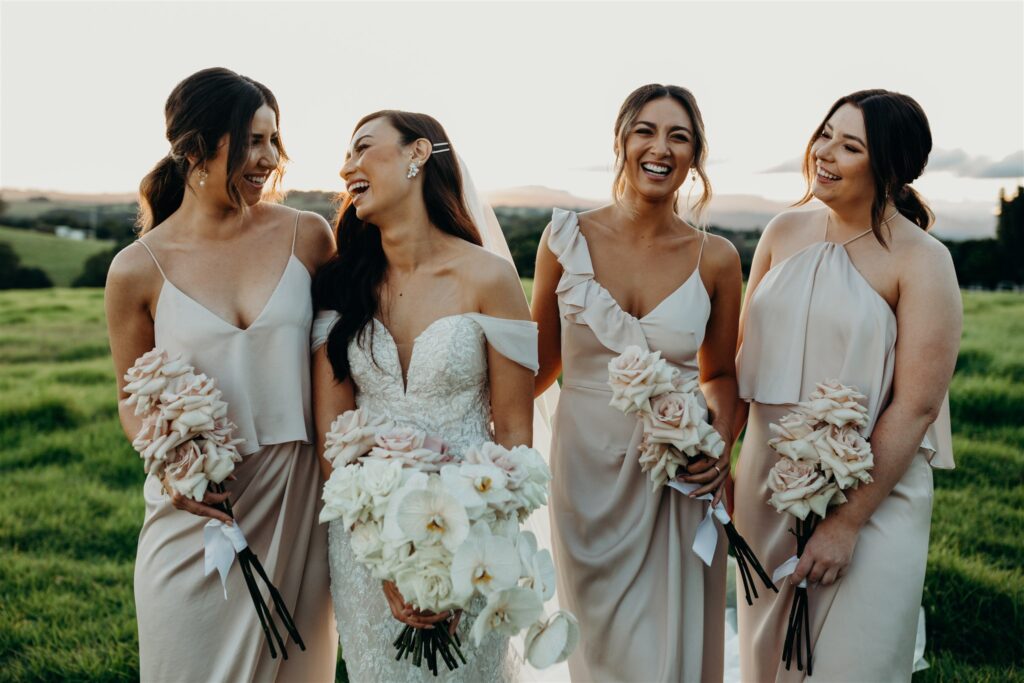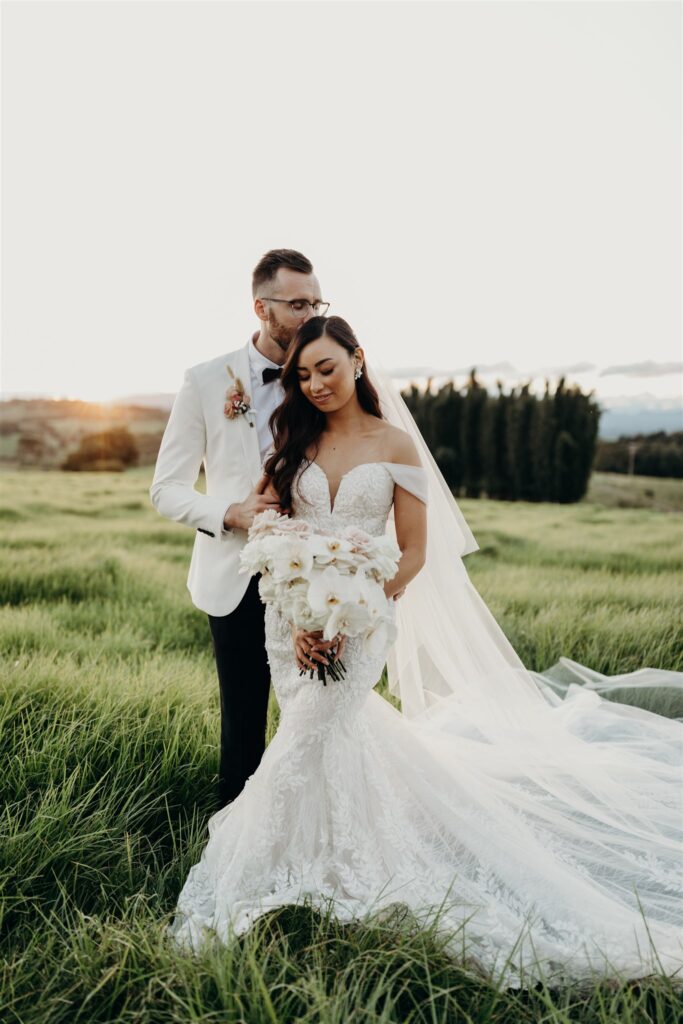 What was the style or vibe you desired for the day, and how did you bring it to life?
We knew from the very beginning of our wedding planning that we would want a 'new romantic' feel. That is, a soft yet modern vibe. We aren't very big on colour, so we chose muted shades of pink, whites, creams, golds and blacks. We knew that we wanted to accentuate the location by adding as many flowers and lights as possible. We wanted our style to be soft and minimalist while being romantic. We were sure to incorporate as many soft lines and textures as we could throughout the styling.
We worked with the florists, stylists, Billie and the team and our coordinator to decorate all areas of the wedding to match our style.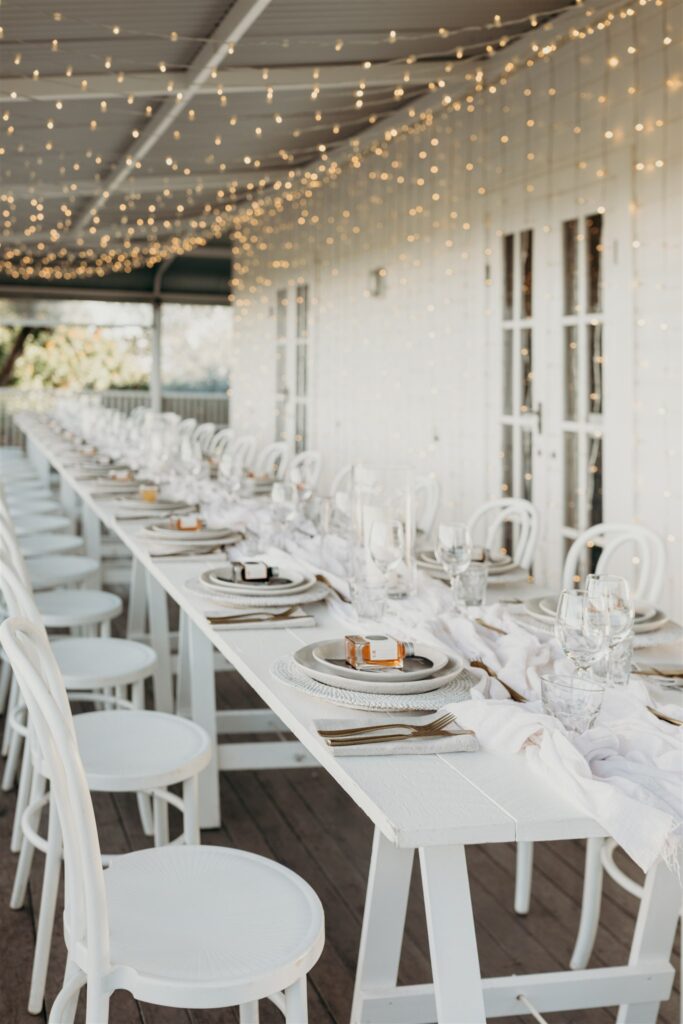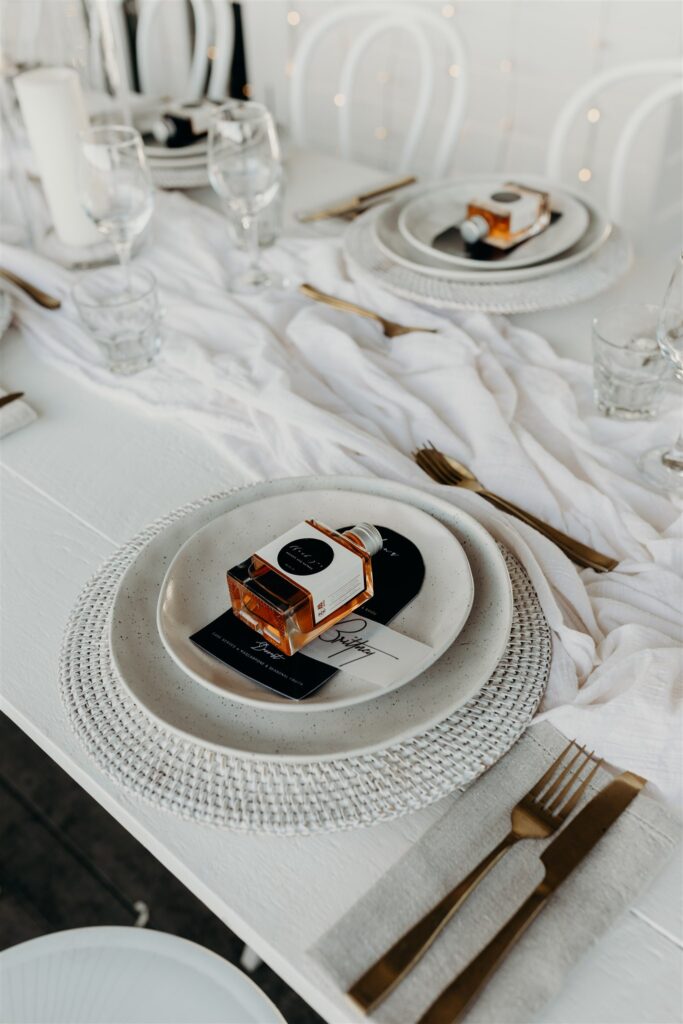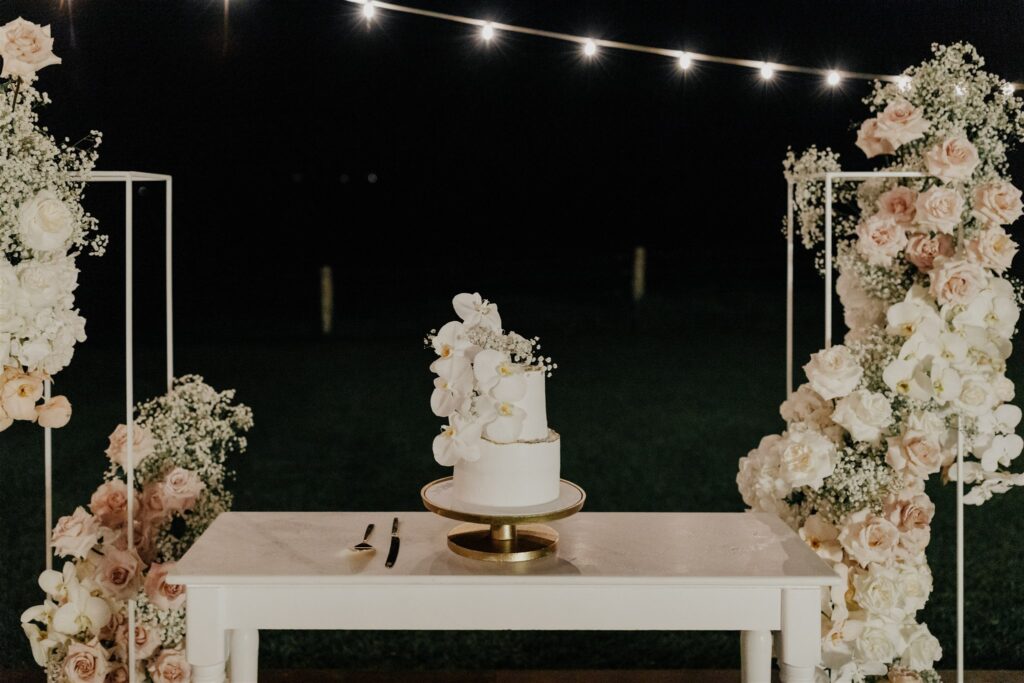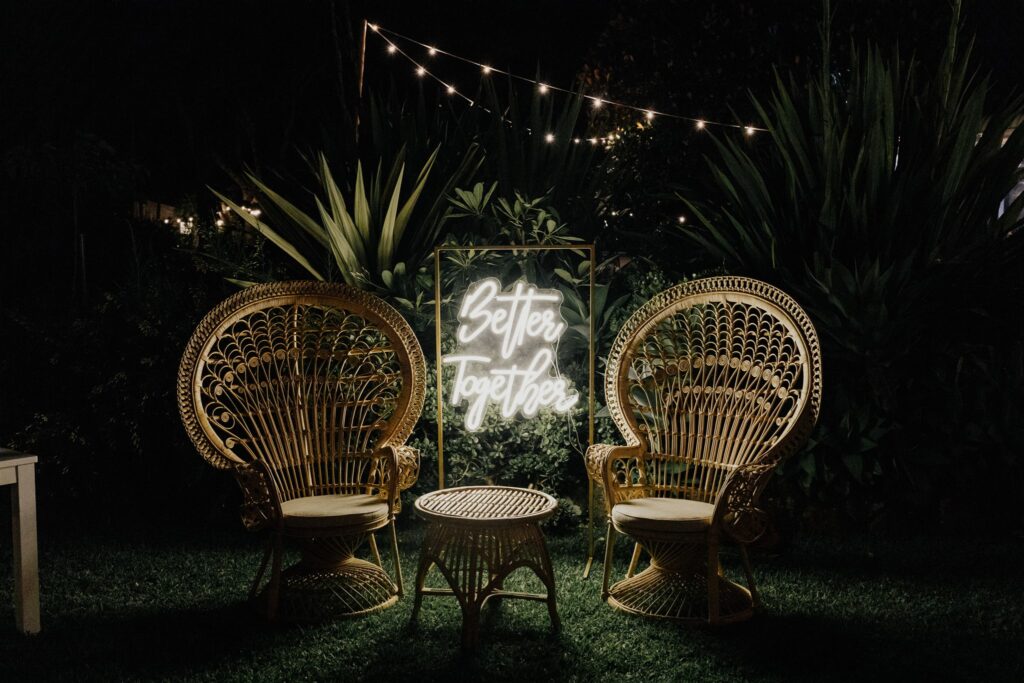 What are your top 3 most memorable moments of your wedding experience?
Nathan's top three:
– Getting ready with the parents and groomsmen – I'll never forget the feeling of nerves and excitement during the morning surrounded by my loved ones.
– Seeing Melanie walk down the aisle – I think this is a pretty common cherished memory shared amongst the one standing at the alter watching their soulmate walk towards them. That calming feeling of finally seeing Melanie will stay with me forever.
– The reception – we had organised the formalities (speeches, dances and cake cutting) to be carried out early on in the night so we could really party. Of course, we loved the formal proceedings of the night, but I really loved sitting and chatting to/dancing with our nearest and dearest.
Melanie's top three:
– Getting my hair and makeup done with the girls. It was such a special time, filled with champagne, laughs and nerves.
– The whole 'getting married' part. The ceremony was beautiful and filled with love. We are from Canberra and our guests made the trip up to Byron to celebrate with us. The ceremony was the time I was walked down the aisle to my future husband, but it was also the first time I had seen any of the guests since being up in Byron. It was such a special moment when I realised that these beautiful people had travelled up to be a part of our day. – The dance floor – not one to avoid 'dropping it low', the dance floor was where the guests could get a little crazy and have some fun. Our DJ, Niall Lochhead, had lined up such an amazing playlist.
Feel like name dropping any suppliers that completely blew your socks off?
Of course! To be honest, we wouldn't be happier with the team that helped us on our big day!
– Venue: Byron View Farm (of course). The team were so helpful and understanding.
– Photography: Tessa Shannon Photography. We met on Instagram and the rest is history. We feel like Tessa has become a true friend.
– Florals: Wilderness Flowers. We emailed the team two weeks before the wedding with changes and they delivered. Not only did they deliver on the brief, but they exceeded all of our expectations.
– Celebrant and MC: Andrew Michaels. The nicest, most caring man you will ever meet (need we say more?)
– Live Music/DJ Set: Niall Lochhead. Niall has the voice of an angel and he was super helpful when we chose our live set and DJ set playlist.
– Marley Hammond Makeup: for soft, natural looking yet flawless makeup!
– Fig Tree Catering: we did not hear one complaint from the guests, and that is saying something from a Canberran crowd. The food was amazing!

What does marriage mean to you?
To us, marriage is the ultimate show of love to your partner. It's devotion, understanding, love and teamwork.
We were together for nearly 8 years prior to the wedding, we thought that we knew everything there was to loving another person; but we cannot describe how strongly we feel for each other now as husband and wife.
What would be your biggest advice to other couples considering Byron View Farm for their wedding venue?
Do it. It's the most beautiful blank canvas, and there are alpacas. Could the venue get any better?
In all seriousness, we had certain plans for our wedding, then there was a massive downpour the day before. This changed our plans massively. The team at BVF, and Byron Bay Weddings were quick to respond and the venue has so many different options for wet weather. We like to plan, and we like to follow our plan, so to change the setting for our reception the day before the wedding was not ideal, but we were in such good hands that we felt comfortable with the changes.
What are you two most looking forward to as a married couple?
We're looking forward to building our life together, and eventually, a honeymoon!
Suppliers
Venue: Byron View Farm // Planning & Coordination: Byron Bay Weddings // Furniture & Styling: The Wedding Shed // Catering: Fig Tree Restaurant // Photographer: Tessa Shannon // Florist: Wilderness Flowers // Lighting: Byron Audio // Celebrant: Andrew Michael // Musician: Niall Lochhead // Hair: Petula Jade // Makeup: Marley Hammond // Wedding Cake: Eat Cake Byron Bay // Guest Transport: Steve's Transport
Welcome to Byron View Farm's little white cottage. Our one-bedroom guest home, perched on the highest hilltop of the farm… and the Byron Hinterland. Come with us for a little walk-through! These are the views from the wrap-around verandah… rolling hills, stretching out to the ocean and the Byron Bay…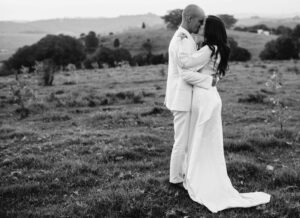 From colleagues to lovers, it was an INSTANT connection for these two lovebirds back in 2017, and they have been inseparable ever since! Inspired by a romantic, bohemian vibe, Natalie and Sean's vision was brought to life through a blend of soft colours, relaxed furniture, and lots and lots of…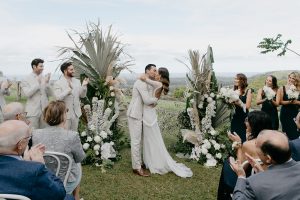 Somewhere in between their big beautiful smiles and 'simply can't get enough of you' body language, it's safe to say we've become a little infatuated with these two lovebirds. Cue…Rebecca and Michael. It's no wonder why these two chose to tie the know here in Byron Bay, being their favourite…