Welcome to The Cottage. A one bedroom hinterland retreat for couples and solo guests. Furry ones welcome.
The master bedroom complete with fluffy robes, Netflix and the comfiest king-sized bed for you to slip into with pure linen sheets. Witness the sunrise whilst cocooned in bed with a hot cup of tea, or footsteps away take in the sunset as you sit around the outdoor fire.
The Cottage's spacious wraparound deck invites your to take in Byron View Farm's exquisite ocean to mountain views. Spend the day in the floating wicker egg chairs with your favourite book or drift into a trance spotting whales in the winter.
If you don't want to leave your hideaway, and let's face it you probably won't! Nestle in with the well-equipped designer kitchen. Complete with mini fridge, oven, dishwasher, local goodies and staples.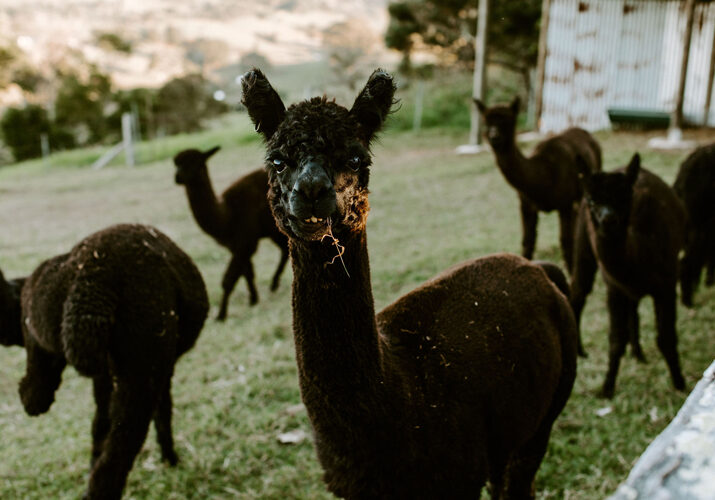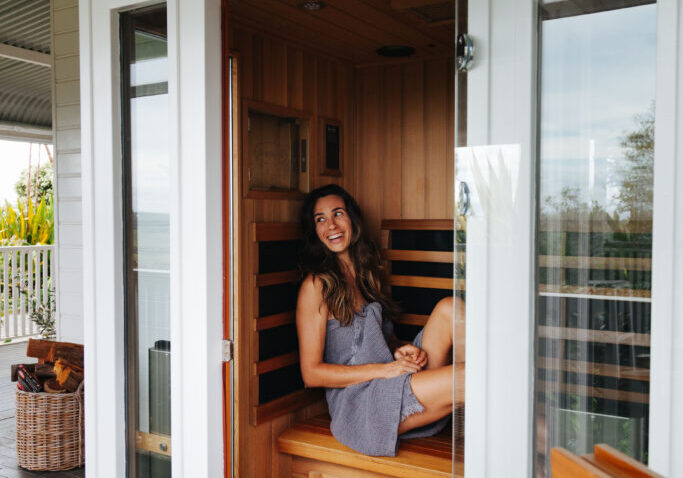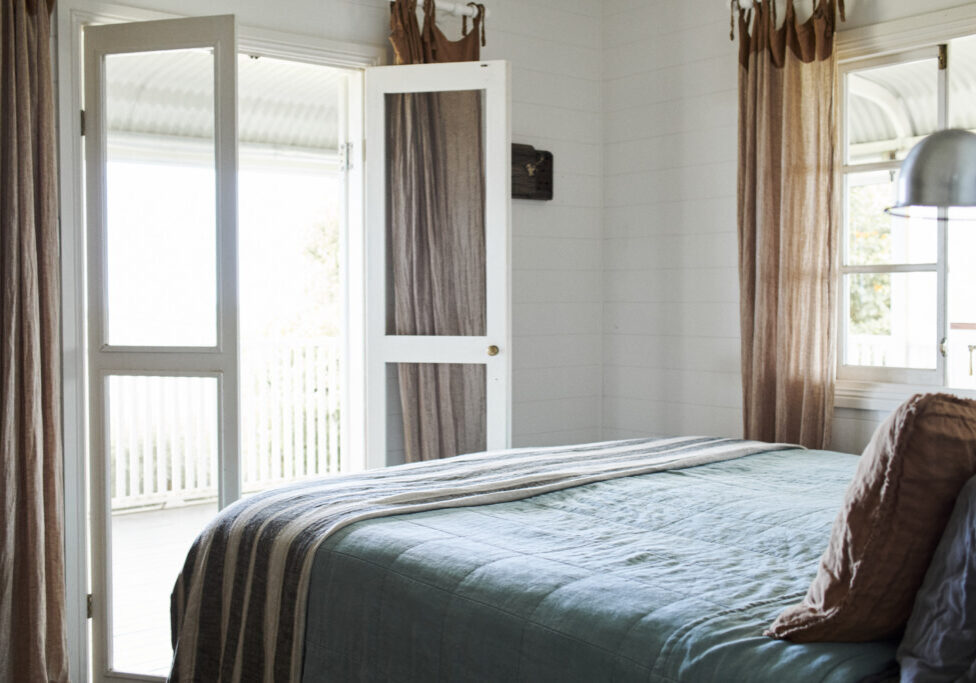 Head to our listing on Airbnb to make a booking. Any extended wedding accommodation bookings need to be made via the venue manager.
We offer you a handful of additional in-house services during your stay. 
Choose from a recalibrating Reiki Energy Healing, Massage, Private Yoga Class or Tea Ceremony. The perfect lead up to hopping in the infrared sauna...
If adventure is on the cards, we offer private rewilding tour of Byron View Farm with Rob. Take in the beauty of a growing rainforest of up to 41,000 trees, and learn about our rainforest regeneration project.
For bookings of either, please let us know upon your booking or contact Billie on 0412 298 244.
Testimonials
'If you love a quiet place that is close to everything, this is a great stay. Miles away, yet so close. The views are incredible right down to Byron. Everything in the house is gorgeous quality, from the handmade crockery to the linen sheets and duvets. We can't wait to return.'

- Rubem
'BVF truly is a little slice of heaven! Breathtaking views and a beautiful cottage that feels like home as soon as you walk in. Lots of thoughtful touches make it feel that extra special. Watch the sun rise over the ocean from one side of the house and enjoy magnificent sunsets on the other side in the evening. Peaceful and surrounded by nature and animals. Loved every moment.'
- Sarah
'What an incredible place! We've been fortunate enough to stay in some incredible places around the world and Byron View Farm is right at the top of the list. Whether it's the incredible sunrises from your bed overlooking the misty mountains or the sunrises from the back deck... the whole place is very special. We will definitely be back'

- Sebastian
'Beautiful, stylish and very comfortable private space up above the bustle of Byron. 360 degree views of the entire district where you can watch the sunrise from your bed and then the sunset from the comfortable lounge chairs looking over the hinterland. My only concern is that if you stay here you will not want to leave!'
- Helen
'If you're looking for the best views of Byron Bay, this is the property you want to stay in. 360 degree views over the whole shire. The owners were incredibly helpful the whole stay and made me feel right at home'
- Jack
'Byron View Cottage certainly lives up to it's name. Thoughtfully fitted out with everything you will need for a relaxing stay away from it all but within minutes to Byron Bay, Bangalow and Newrybar. Best of all it's a pet friendly property. It was also a pleasure to meet Rob and the three beautiful collies Bobby, Slim & Candy. Will definitely be back some day'
- Heather
'Pictures cannot do this place justice. We were here for a week, loved the location, close to everything. The views are just everything. The animals, the cottage...lovely and truly and dreamy. Highly recommend'
- Shannon
We thoroughly enjoyed our stay here! Photos just don't do this place justice. Sunrise on one side, sunset on the other - absolutely breathtaking views. The cottage was beautiful and had everything we needed. Rob & Nikki were great hosts. We enjoyed every moment of our stay and will be back!
- Maria
'Beautiful cottage in an amazing spot! Fantastic views panoramic views of the ocean to the mountains and the cottage itself was very cosy. It was extremely hard to leave'
- Liam
'Such a beautiful farm stay in the hinterlands of Byron. The cottage was so cozy and the property was stunning. We were just a short drive away from Bangalow and Byron Bay and Rob was a fantastic host who gave some great recommendations for nearby restaurants. Cannot recommend it enough and hope we can come back soon!'
- Dani
'The most common incredible stay for my partners birthday! We had the best time in the most magical farm stay, we can't put into words how amazing it was Honestly thank you Nikki we had such a good time'
- Ryan