A country and coastal experience all in one. A ceremony on the highest point of Byron Bay, a secluded hilltop overlooking the ocean, mountains and the beautiful Lighthouse at the most easterly point of Australia. An elopement or wedding at Byron View Farm, offers you a private, magical setting to celebrate with your loves.
Under the open skies, you'll drink in a golden sunset for your reception and dance under the stars. Set on 40 acres of lush green rolling hills, Byron View Farm's iconic setting lends itself to complement any style preference.
Byron View Farm hosts your entire celebration, from ceremony, cocktail hour to reception. There are numerous spaces to choose from, that all beautifully flow into one another. See what resonates with you from the photos below, or book in a viewing to walk through the spaces in-person.
We believe one of the most special parts to a BVF wedding, is that you don't need to leave the property. There is no travel time to photoshoot locations, because .... well.... the views..., which means more time with your guests, and more opportunities to duck off and soak up one another throughout the day.
An original little white cottage creates the central focus for your wedding. This is your romantic retreat at the end of the evening, and also invites an intimate reception on the spacious wrap-around verandah for up to 60 guests. This may be your preferred dining option, or if you desire to dine under the stars - the verandah becomes wet weather option (for up to 60 guests). An intimate setting that is sheltered, and still offers the backdrop of ocean views.
If you can tie your wedding date in with the Lunar calendar, well... you're set for a very magical experience as the moon rises up over the ocean and illuminates your entire evening.
360 degree views stretching to the ocean, hinterland and Byron Bay Lighthouse. Uninterrupted golden sunrises and sunsets, highlighting the silhouette or bordering mountains.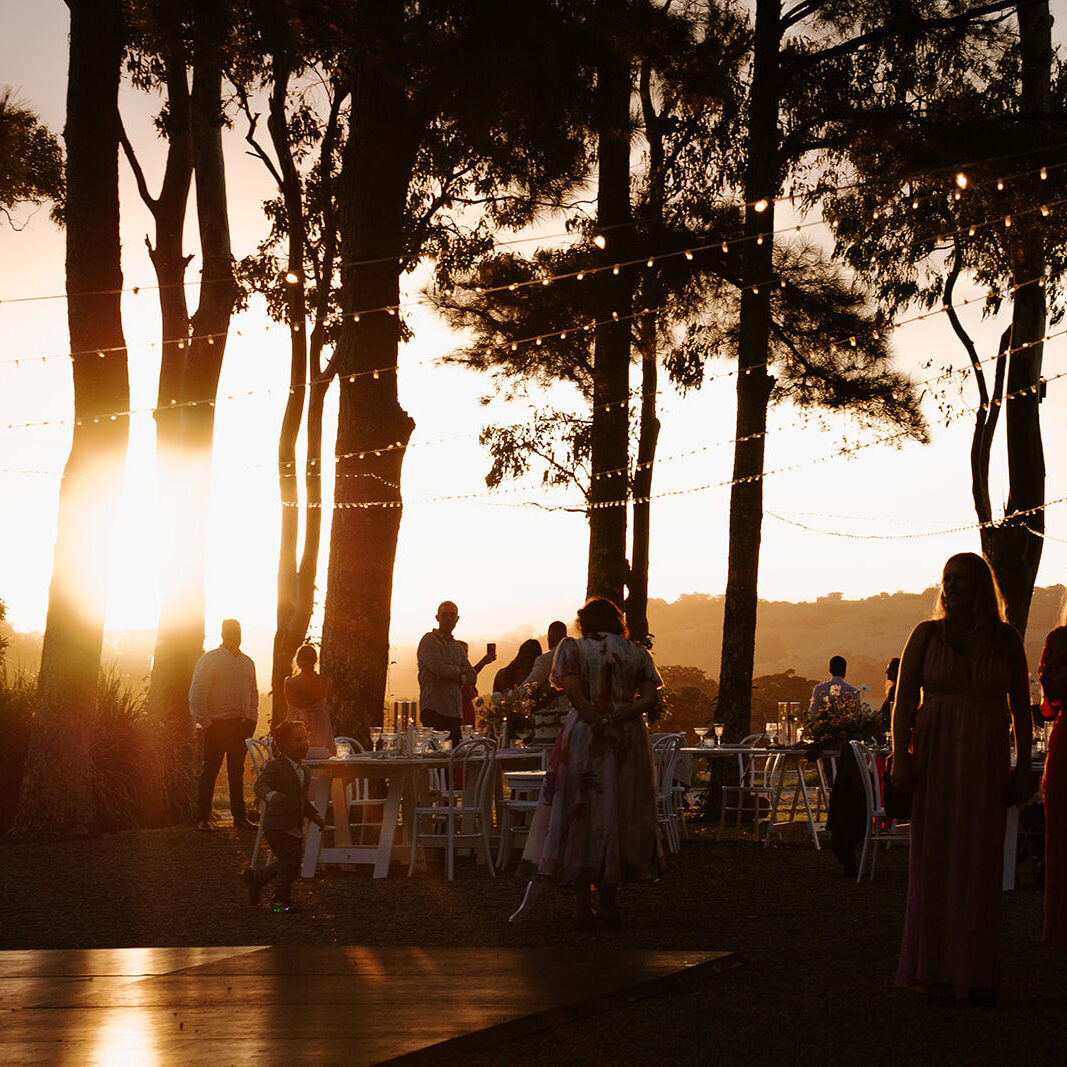 Your ceremony and reception options
We have a number of ceremony locations, with the most popular one overlooking the east with Byron Bay, rolling hills and the ocean in the distance. Your backdrop. A short walk from the multiple ceremony locations on site, the cottage makes for an elegant entrance to the ceremony as you make your way down the aisle. The location of the ceremony can be changed the week of the wedding to account for weather in order for the couple to make the most out of their special day.
We have a number of different reception locations depending on your guest numbers. Dine and dance under the stars or on the cottage verandah. All of our reception locations take advantage of the property's views.
Soak up the sunset kissing rolling hills in the afternoon for cocktail hour with your guests. This is one of our favourite times of the entire day as the colours in the sky are absolutely magical. Witness the shades turn from bright blue, to pastel purples, into golden tangerine rays.
We pride ourselves on beautiful intimate and exclusive weddings here at Byron View Farm, with a huge commitment to creating a welcoming location for our guests in amongst our sacred natural environment and wildlife.  We offer limited intimate elopements and micro-weddings of 2 people to weddings of up to 60 people.
- Exclusive use of Byron View Farm grounds for your wedding day for 7.5 hours
- 3 different ceremony spots to choose from depending on your favourite view
- Reception | Dine under the stars overlooking the ocean or enjoy an intimate setting the cottage verandah
- 1 night accommodation (2 nights for marquee weddings) in The Cottage (for the couple) the night of your wedding, includes light breakfast for two and your own infrared sauna
- 5 x wicker pendant lights
- Ceremony and reception chairs, dining tables, cocktail furniture, crockery, cutlery and glassware for on the tables for up to 60 guests
- Signing table 
- 2 x PA systems and microphone
- Access to the whole grounds for your wedding photos
- BYO alcohol
- Onsite kitchen facilities and equipment
- Guest bathroom 
- Rainforest tree donated in your honour to Reforest Now
Music is to be off at 10.00pm and guests to depart by 10.30pm. Two piece bands only. No drums or wind instruments are permitted.
Drinks are BYO. Catering is supplied by the award winning Fig Tree Restaurant or Feast Events.
Testimonials
Thank you so much for allowing us to get married at BVF. We had the most magical day and couldn't imagine getting married anywhere else. Your property is so stunning and we loved every minute of being there. It was also so lovely being able to chat to you Rob and see you smiling at us from your balcony after we got married. You are such a lovely soul and made our stay that much better. You are right Rob, BVF has some seriously positive juju. And Billie, you were so amazing with all of your communication over the last year and have been so great to deal with. We are so happy and couldn't have done it without you both and your beautiful property. We will definitely be back! 
Nat & Sean